The Diocese of Winchester, founded in 676AD, is a mix of rural and urban, new and old, innovative and traditional. We serve a population of 1.27 million, of whom over 20,000 regularly attend worship in one of the 375 church buildings across our 255 parishes, led by our 202 ordained clergy, 87 Licensed Lay Ministers and a growing number of lay people commissioned for ministry.
The diocese consists of about two-thirds of the County of Hampshire and most of Bournemouth in the County of Dorset, excluding Portsmouth and the area immediately to its north and northeast. Stretching from the beaches of Bournemouth to the Surrey border, and from the River Hamble to the outskirts of Newbury, over half of the diocese is geographically rural and yet nearly 80% of the population live in urban areas.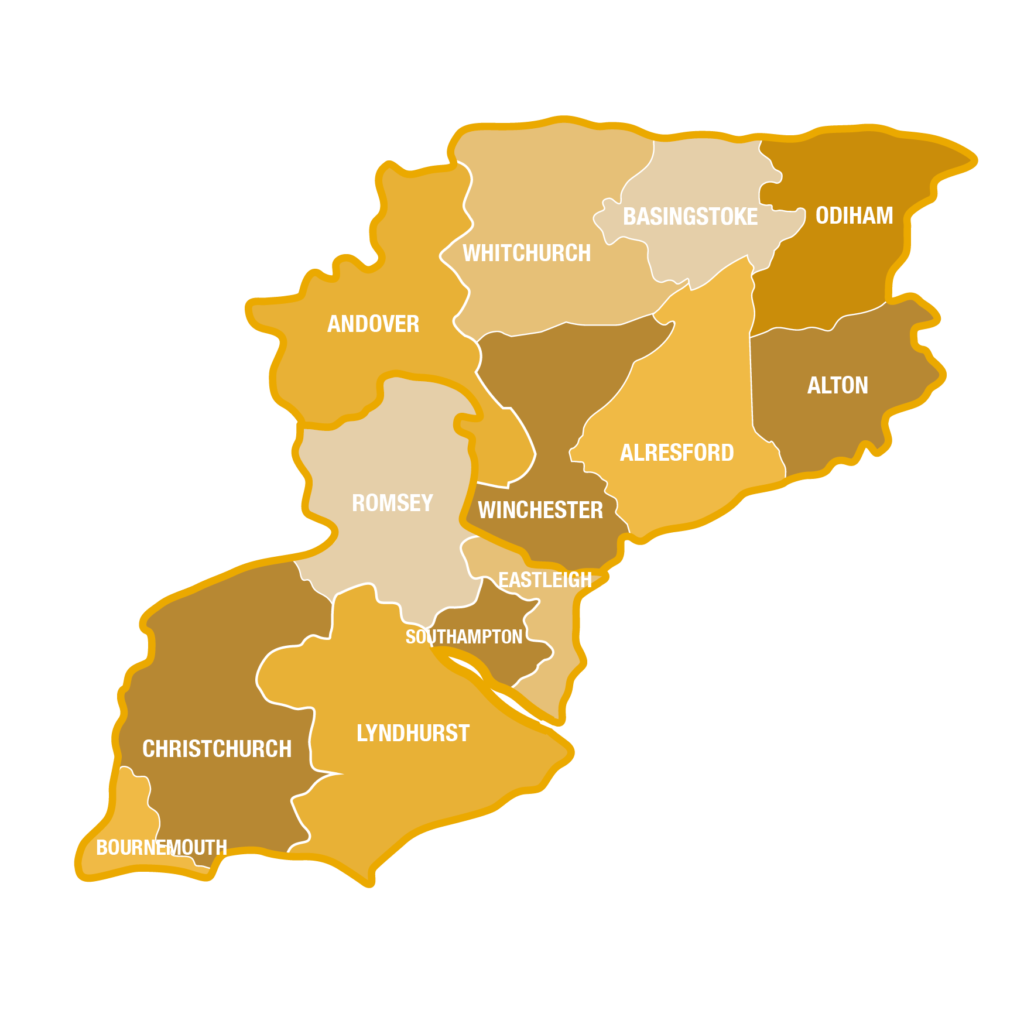 Our Structure
An Anglican diocese has a number of 'layers': the parishes and chaplaincies are often the most visible. They are supported by the Diocesan Office handling things like training for ministry, finance, safeguarding and property issues. Holding all this together is a structure of senior clergy including our two Archdeacons and three Bishops.
The Right Reverend Debbie Sellin, the Suffragan Bishop of Southampton is our acting, Diocesan Bishop whilst we are in vacancy and is supported by The Right Reverend David Williams, the Suffragan Bishop of Basingstoke.
Our bishops across the diocese and have community leadership roles in Winchester, Southampton and Basingstoke respectively. They also support the work of the Church of England nationally.
There are two archdeaconries, Winchester in the north and Bournemouth in the south, administered by our Archdeacon. Each archdeaconry is then separated into administrative areas called deaneries, seven in Winchester and six in Bournemouth.
Winchester Archdeaconry
Deanery
Area Dean
Assistant Area Dean
Alresford
The Reverend David Chattell
Alton
The Reverend Canon Andrew Micklefield
Andover
The Reverend Howard Jameson
The Reverend Chris Bradish
The Reverend Matt Coles
Basingstoke
The Reverend Dr Ben Kautzer
The ReverendNicola Such
Odiham
The Reverend Canon Marion De Quidt
The Reverend Angie Smith
Whitchurch
The Reverend David Roche
The Reverend James Tomkins-Russell
Winchester
The Reverend Ed Dines
The Reverend Canon Professor Liz Stuart
The Reverend Mike Griffiths
Bournemouth Archdeaconry
Deanery
Area Dean
Assistant Area Dean
Bournemouth
The Reverend Canon Michael Smith
The Reverend Canon Mike Powis
Christchurch
The Reverend Canon Gary Philbrick
The Reverend Canon Charles Stewart
Eastleigh
The Reverend Richard Wise
The Reverend Dr Sarah McClelland
Lyndhurst
The Reverend Simon Newham
The Reverend Alison Bennett
Romsey
The Reverend James Pitkin
The Reverend Vanessa Lawrence
Southampton
The Reverend Dan Clark
The Reverend Simon Robertson
The Reverend Canon Dr Erica Roberts