"The LLM training was both enjoyable and challenging.  The study topics were varied and rigorously taught but the tutors always managed to make them relevant to the work of LLMs today.  Studying locally in Winchester was convenient and meeting students from across all Anglican traditions was a real bonus."

– Stephen, a recently licensed LLM
Licensed Lay Ministry (LLM) is the oldest recognised lay public ministry in the Church of England and one which offers a wonderful opportunity for mission and ministry across the whole life of the Church, sharing with others the good news of Jesus Christ.
Our training offers a contextual and part time pathway which enables you to gain both local ministry experience and academic theological learning, discovering the connections between them. Our team is here to support you as you grow in the ministry God has called you to.  
Contextual Training
Being rooted in a local church context is key, including being supported by a Training Minister, whom you will meet with regularly. You will also have the opportunity to experience two other placements over your training: A short missional placement (a hospital chaplaincy, outreach initiative, Christian return-to-work scheme etc. or even our oversees trip to partner links in Rwanda) and, in your final year, a longer placement to experience a different church tradition to your own. Our training offers a contextual pathway and is delivered part-time. Many of our candidates fit this alongside other full-time or part-time work.
The idea is that local ministry experience in your Parish context complements the theological study, so that theological reflection between theory and practice become second nature.
Theological Training
"Stepping back into the world of study was a daunting venture into the unknown and yet, with the guidance of an immensely supportive staff team and the friendship of an eclectic and caring bunch of fellow students, I have found it to be stimulating, enriching and immensely helpful to my church ministry." (a previous student)
Alongside contextual training we are passionate about facilitating inspiring and high-quality learning that enables everyone to grow in a friendly and stimulating atmosphere with tutors and additional support should you need it. Licensed Lay Ministry training is usually a two-year pathway leading to a Certificate of Higher Education in Theology, Ministry and Mission (awarded through Durham University). There is also the opportunity to continue accredited study beyond your licensing to achieve a Diploma of Higher Education. See an example below: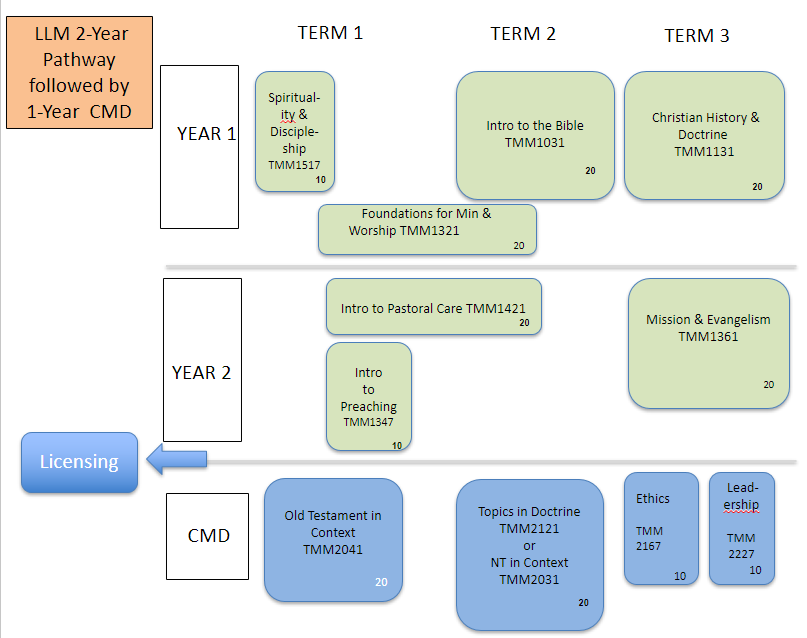 If you have prior theological learning and/or ministerial experience we would discuss possibilities of a bespoke training programme that would suit you best.
Our training is delivered using a blended approach of in-person and online study, with around three Saturdays of tutorials in person each term, Thursday evenings online and around one weekend residential in each term. All students have access to a fully resourced online learning platform with an online library of books and articles to hand as well as access to book from our library at Wolvesey. The new year begins together each September with a weekend residential at Winchester.
Worship Centred Learning Community
Worship is at the heart of who we are as a community and is a key priority in our gatherings – both in-person and online. As a former student said at the end of training:
"All I know is that these new colleagues have become my closest friends and soul mates – and that I thank God daily for the absolute privilege of accompanying each other onwards – as we are together dazzled by the light of Christ…. the author and perfecter of our faith. We travel as pilgrims together, journeying, discerning, learning, obedient and faithful to the core – obedient to the call of Christ."
The majority of our times of worship are student led, and provide an opportunity to become familiar with both the ancient daily rhythms of prayer of the Church of England and celebrate contemporary forms of worship. Special celebration services throughout the year include in-person gatherings at the end of each term and a much-loved annual service to celebrate the completion of the previous year's students completion of training.
Here's what some of our Licensed Lay Ministers say…
If you have any questions about our Licensed Lay Ministry training, please contact Helen O'Sullivan by emailing helen.osullivan@winchester.anglican.org.