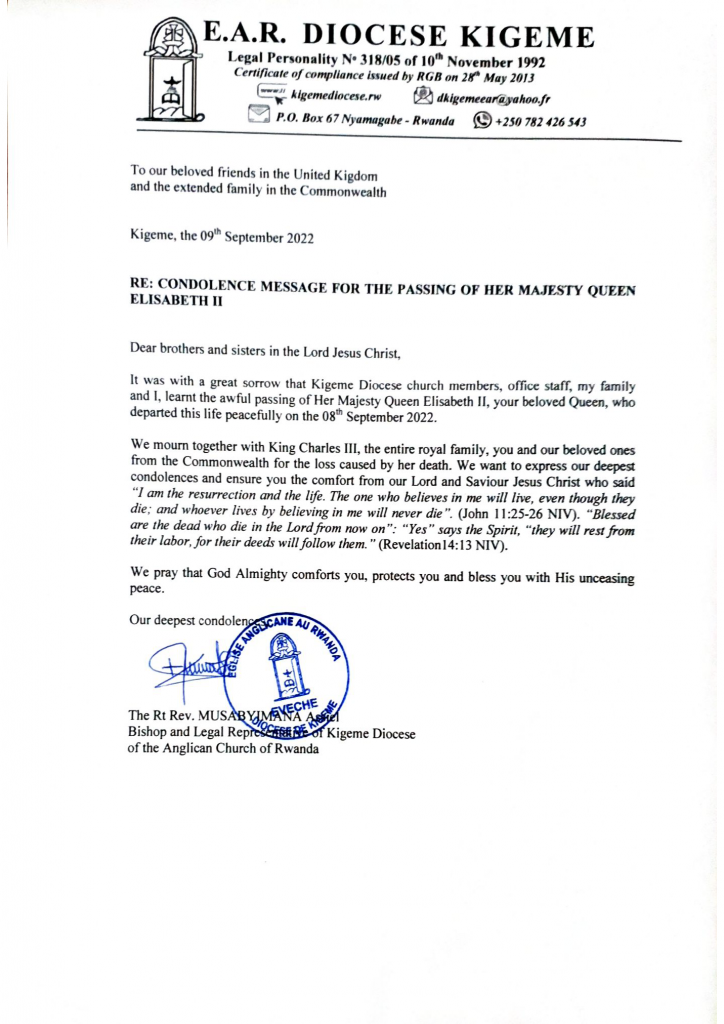 The image of the letter above reads:
To our beloved friends in the United Kingdom and the extended family in the Commonwealth.
Kigeme, the 09th September 2022
RE: CONDOLENCE MESSAGE FOR THE PASSING OF HER MAJESTY QUEEN ELISABETH II
---
Dear Brothers and sisters in the Lord Jesus Christ,
It was with great sorrow that Kigeme Diocese church members, office staff, my family and I, learnt the awful passing of Her Majesty Queen Elizabeth II, your beloved Queen, who departed this life peacefully on the 08th September 2022.
We mourn together with King Charles III, the entire royal family, you and our beloved ones from the Commonwealth for the loss caused by her death. We want to express our deepest condolences and ensure you the comfort from our Lord and Saviour Jesus Christ who said:
"I am the resurrection and the life. The one who believes in me will live, even though they die, and whoever lives by believing in me will never die." (John 11:25-26 NIV). "Blessed are the dead who die in the Lord from now on": "Yes," says the Spirit, "they will rest from their labour, for the deeds will follow them." (Revelation 14:13 NIV).
We pray that God Almighty comforts you, protects you and bless you with His unceasing peace.
Our deepest condolence,
The Rt Rev. Musabyimana Assiel
Bishop of Kigeme