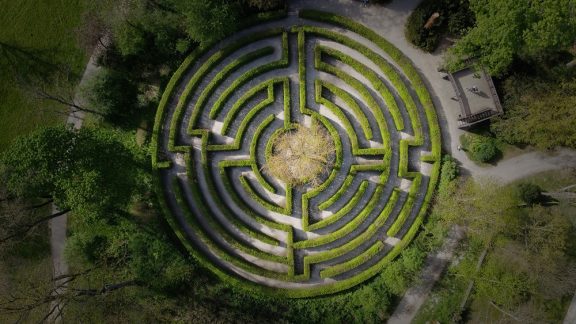 Labyrinths
Since ancient times, the labyrinth has been recognised as a sacred symbol for life's journey. In Christianity, the labyrinth's symbolic meaning is that life's journey is challenging, filled with highs and lows, ups and downs and when one feels lost along their path, God's salvation is at the centre of life.
Labyrinths can be found in churches across the world and many cathedrals have portable labyrinths that people can use. They are becoming increasingly popular in our church schools, taking children and adults on spiritual journeys to their centre.
One of the most famous labyrinths can be found at Chartres Cathedral in France that dates back to 1205. Pilgrims travel from all around the world to use the Chartres labyrinth. The idea is that, as pilgrims walk around it, they walk towards God. At the central point, the person comes to the center of his or her relationship with God.
Click here for the Peaceful Path project details, an initiative using labyrinths in schools.
Click here for a labyrinth prayer resource.