Churches across our diocese played an essential part, and worked really hard, in supporting people in their grief and remembrance following the death of Her Majesty the Queen – thank you again for all your sacrificial support and efforts.
We have collated some thoughts and feedback to help parishes as they plan for future civic events, most pressingly the Coronation of our new King Charles III on Saturday 6 May 2023. These are unique moments for the Church when we are looked to by the whole of society as a beacon and a guide, and it is worth making the most of these rare opportunities to demonstrate the generous love of Christ to our communities.
'As in funeral ministry, the public (like families arranging a funeral) attached closely to the church and its representatives during the mourning period – as the church, it felt like we were given privileged access during this window, just as can sometimes happen with a grieving family.

But it's not a window that remains open in the same way indefinitely. Being present to our communities in these moments of profound reflection and emotion can't be packaged into a new campaign or programme – in fact, it seemed that the leadership and care offered by the church was so well received precisely because of its modesty and posture of humility. The nation was arranging a funeral and we were doing it. 

Of course, as with funerals in the parish, there comes a point when people start to move on, but equally, with some careful onward thought, we can continue to build connections and warmth, so that next time we start that bit closer to each other.'

– Rev Chris Bradish, St Mary's Church, Andover
The value of opening up the church
Many churches opened their doors for longer hours throughout the week during the period of national mourning, for prayer/candle lighting, and found huge value in being near and present for people midweek. Is there scope for doing this more often or for other events?
Outside spaces around churches became important for laying flowers, connecting with people – this might spark further thoughts and action about connecting the outside space better with the life of the church. Is there good signage? Are there benches for seating?
Hospitality and community
Offering some hospitality in the form of food and drink brought people together. (Note that the Coronation will be a bank holiday in May so the weather may well be good enough for outdoor picnics.) There were some great party ideas from the Queen's Platinum Jubilee here: https://www.theplatinumjubilee.com/ If a full-blown party feels like too much then perhaps choose just one initiative, such as teaming up with your local baker or scout/guide groups to make a giant cake.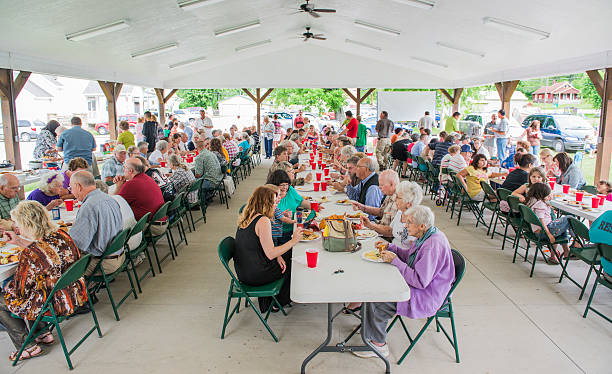 Connecting with other local groups
Local uniformed groups (guides and scouts) visited churches and left cards and crafts. Local museums  took copies of church Orders of Service and sermons as a record of local social history. Many churches invited local civic leaders and representatives to their church services and gave these individuals a role – all this presenting additional opportunities for building local connections.
Many churches found that their communities valued coming together to watch the Queen's funeral – the "where were you when…" moment. For the Coronation, it is likely that churches and other public buildings will be offered special dispensation to screen the event without a TV license.
Winchester Cathedral has extensive experience of these big events and screening logistics – Canon Andy Trenier has kindly offered to help anyone who needs advice: andy.trenier@winchester.cathedral.org.uk
The national Church provided resources for CofE schools to use in assemblies. One church made sure that they shared these materials with all the non-church schools in the area too, which was hugely appreciated. Are there more links to explore and maintain here?
Some churches invited leaders and representatives from other faith groups and, while maintaining the Christian context, gave them opportunities to contribute.  These were valuable opportunities for good contact and exchange which have led, in some cases, to conversations about how relationships can develop further. Other churches found celebrating the Commonwealth in their service a good way of celebrating the diversity of nationalities represented in our communities, perhaps inviting people from Commonwealth nations to offer prayer/reflection.
Providing the structures and rituals for people to grieve and reflect was hugely important – from candle lighting to laying flowers, to framed images, prayer cards to take away, interactive prayer opportunities such as prayer trees or globe prayers (to reflect the Commonwealth nations). For future civic events, look out for guidance and set prayers provided by the national church.
Being proactive in sending press releases to the media, to local parish magazines, and using web and social media channels is important. Be sure to send your plans to your parish magazine and/or local newspaper three months in advance to allow for their lead times, and use social media, parish website and/or 'A Church Near You' to promote your plans nearer the time (some good tips to be found on the Church of England Digital Labs pages: https://www.churchofengland.org/resources/church-england-digital-labs)
Afterwards, share social media posts and news updates on your website that include photos and videos, being sure to seek permission from subjects first (photo permission form: https://winchester.anglican.org/?s=Photo+Consent+Form ). Make sure to tag @CofEWinchester on social media so we can share your stories too!
If more training is needed for individual parishes, please contact the Diocesan Comms team: communications@winchester.anglican.org.