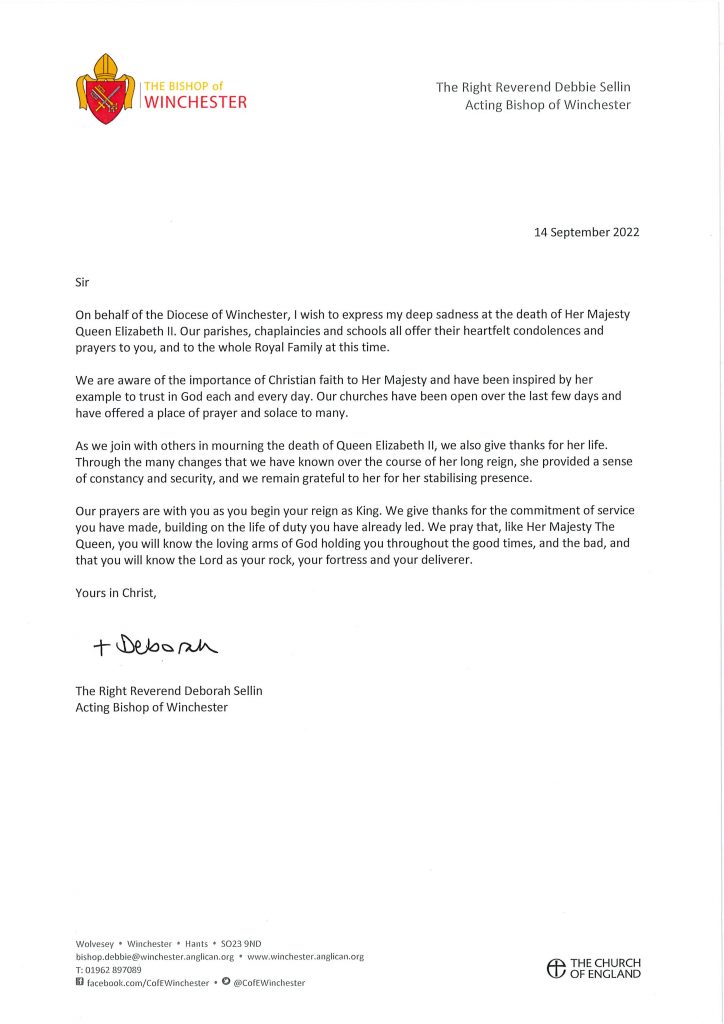 The letter reads:
Sir
On behalf of the Diocese of Winchester, I wish to express my deep sadness at the death of Her Majesty Queen Elizabeth II. Our parishes, chaplaincies and schools all offer their heartfelt condolences and prayers to you, and to the whole Royal Family at this time.
We are aware of the importance of Christian faith to Her Majesty and have been inspired by her example to trust in God each and every day. Our churches have been open over the last few days and have offered a place of prayer and solace to many.
As we join with others in mourning the death of Queen Elizabeth II, we also give thanks for her life. Through the many changes that we have known over the course of her long reign, she provided a sense of constancy and security, and we remain grateful to her for her stabilising presence.
Our prayers are with you as you begin your reign as King. We give thanks for the commitment of service you have made, building on the life of duty you have already led. We pray that, like Her Majesty The Queen, you will know the loving arms of God holding you throughout the good times, and the bad, and that you will know the Lord as your rock, your fortress and your deliverer.
Yours in Christ,
The Right Reverend Deborah Sellin
Acting Bishop of Winchester