Rosemary Bartlett and Gill Tybjerg from Christchurch Deanery have recently returned from visiting their Deanery Mission Partners, Kinkiizi Diocese, Uganda. They received a wonderful welcome and felt privileged to enjoy two weeks of Ugandan hospitality and fellowship.
Gill has been heading up the partnership between Christchurch Deanery and Kinkiizi Diocese since 2011. Prior to Covid, she was visiting at least annually, together with small groups of others from around the Deanery. Due to the impact of the pandemic, the recent visit was the first time a trip was able to be organised for over four years.
The Deanery link with Kinkiizi Diocese goes back almost twenty years, and in that time Christchurch Deanery have been involved in helping in a number of areas. For instance, in schools they have helped with infrastructure, such as new classrooms, rain tanks, and equipment like curriculum books and writing materials. They have furthermore facilitated school partnerships through the British Council, which included teacher exchange visits and information sharing between schools.
Since the pandemic, Christchurch Deanery have also been able to help Kinkiizi Diocese provide workshops for headteachers as they returned to school after the long lockdown. The Diocese now offer training for strategic planning around raising standards, encouraging schools to provide additional tuition opportunities for students held back for so long.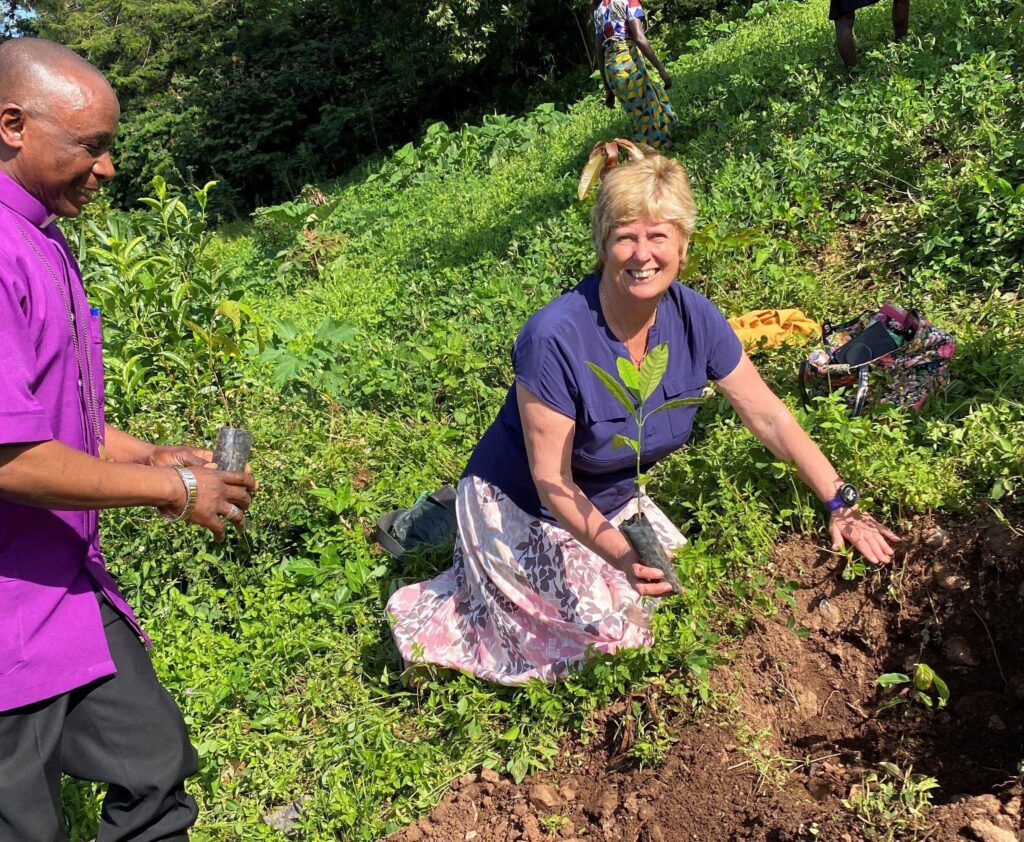 The partnership has additionally supported the Mothers Union and women's ministry in the Kinkiizi Diocese, helping them establish a Women's Empowerment Bakery, as well as funding a rain harvesting tank at the Mothers Union Vocational Training Centre for Girls. The team often take donated haberdashery items to Uganda too, in order to help the tailoring and knitting classes the Mothers Union provide.
The sheer joy in worship there is infectious and a wonderful atmosphere to be part of – really uplifting!

Rosemary Bartlett
Christchurch Deanery has also played an important role in supporting the Diocesan run Nyakatare Health Centre, training sonographers and supplying ultrasound equipment. They recently worked with the Centre to build staff accommodation, which now houses midwives, a clinical officer and two doctors. This project is not quite finished, as more money was needed to build a retaining wall behind the house to protect it from flooding and landslides. However, a recent appeal across the Christchurch Deanery meant enough money was raised to complete the wall, which was given to the Diocese on this trip to Kinkiizi.
Other efforts of the Christchurch Deanery include supporting retired priests, who until recently retired without a pension income. The Kinkiizi Diocese now tries to provide a small pension, though any additional help, either for the pension fund or for one off expenses like medical bills, is always very welcome.
It's been four years since we were last there, and it's clear the extended COVID lockdown has had a big impact on people's lives in Kinkiizi, which will take some time to recover. But it was good to see the Church is taking an active role in supporting the community through training, advice and encouragement as they try to rebuild their lives.

We were able to celebrate and give thanks for projects like the Women's Empowerment Bakery and see how the Mothers' Union in particular is enabling girls to learn skills like tailoring, hairdressing and baking.

We also prayed, sang, and danced at St Peter's Cathedral with Bishop Dan and a very large congregation as they celebrated 28 years since Kinkiizi Diocese was formed, and in honour of the occasion we helped plant some trees!

Gill Tybjerg
Due to the strong link they have with Kinkiizi Diocese, the people are always included in the Christchurch Deanery monthly prayer cycle, encouraging all the Deanery churches to pray regularly for our friends and fellow Christians in Uganda.
If you're interested in learning more, Gill will be giving a short talk on the trip to Kinkiizi, as part of the Diocesan Mothers Union Information Day, on 10 July at St John's Church, Hedge End.