It's been encouraging to see so many churches from our diocese organising prayer initiatives to join millions around the world taking part in Thy Kingdom Come, the global ecumenical prayer movement that invites Christians around the world to pray from Ascension to Pentecost for more people to come to know Jesus.
Thy Kingdom Come is now in its 8th year of encouraging each and every Christian across the globe to pray that God's Spirit might work in the lives of 5 people who do not yet have a relationship with Christ, with new resources released for 2023 here.
Have a look at some of the ways our churches have been engaging with this year's wave of prayer…
Prayer Labyrinth in the Parish of Dibden
A prayer labyrinth has been mown outside St Andrew's Chapel in Dibden Purlieu for this year's 'Thy Kingdom Come', with laminated cards with suggestions on how to how to use the prayer labyrinth available, including a special one for young people, and a cushion version for those who might not be able to walk the route to trace with their fingers.
I went along to join the supervised session. I found that as soon as I began to walk the labyrinth my focus was completely on prayer, the journey I took was slow, thoughtful and listening for the holy spirit. There were times when I felt the breeze on my face and the warmth of the sun on my back, confirmation I felt of God's presence. At one point I looked down at the forget-me-nots flowering and asked for forgiveness for the times I try to go it alone through the storms and don't include God in the nitty gritty of my life. During these sessions there are members of the Waterside prayer team there to pray for you when you reach the centre and anoint you if you would like it. It was such a privilege to have someone pray for you, pray over your life and to remind you of Gods blessing. I hope you too can walk the labyrinth and receive the peace that I did today.

Viv Hutchinson, member of congregation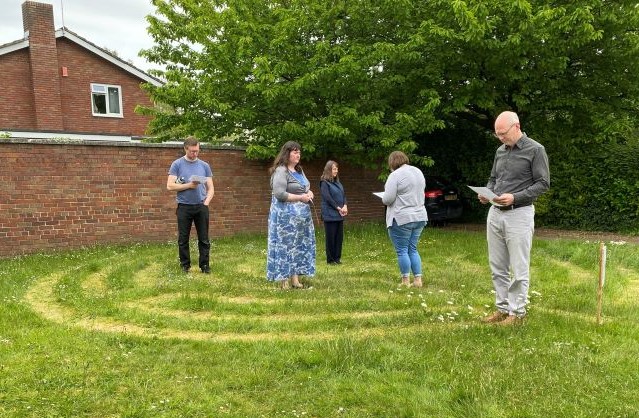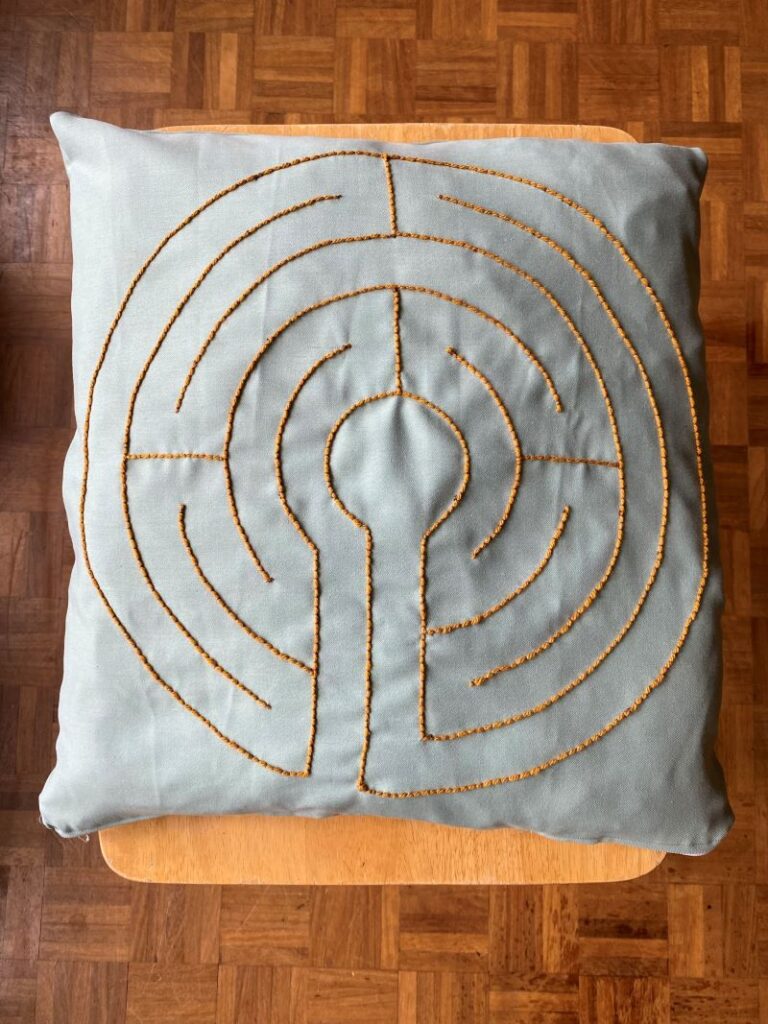 Prayer Walk at St James Church West End
St James Church West End planned a PRAYER WALK of 3.5 miles around the parish, pausing along the way to pray for residents, businesses, the schools and pre-schools, churches, the GP surgery, the youth group, the funeral directors, the Parish Council and library, and more. The team used the walk as an opportunity to explain to the community the important message that: "Prayer is not just a static, hands together, close your eyes, talk to God exercise. It can also be something that you do whilst walking, running or driving, as you feel moved to do so."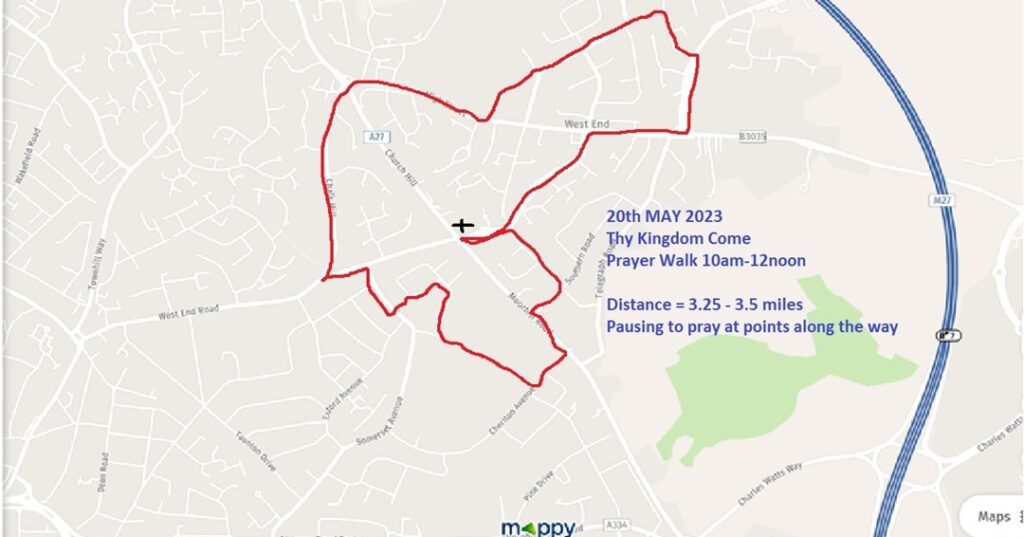 Creative prayer stations at St Mary's Sholing
St Mary's Sholing has been open every day for Morning Prayer during Thy Kingdom Come, followed by opportunities for people to engage in creative prayer activities, including colouring, sewing and journaling, and a pop up prayer labyrinth.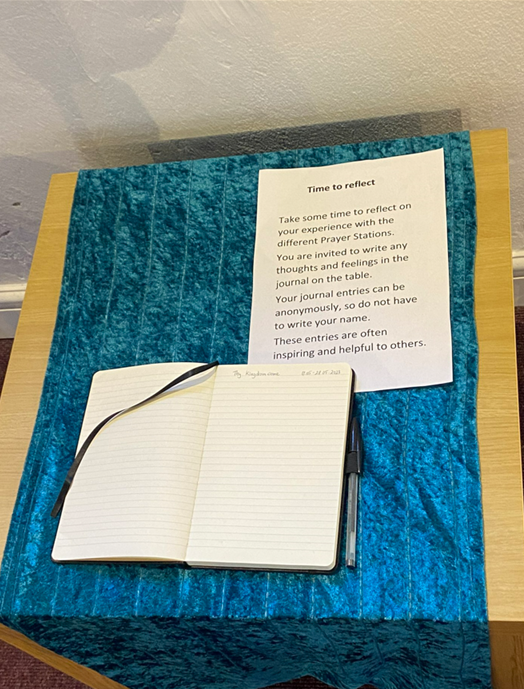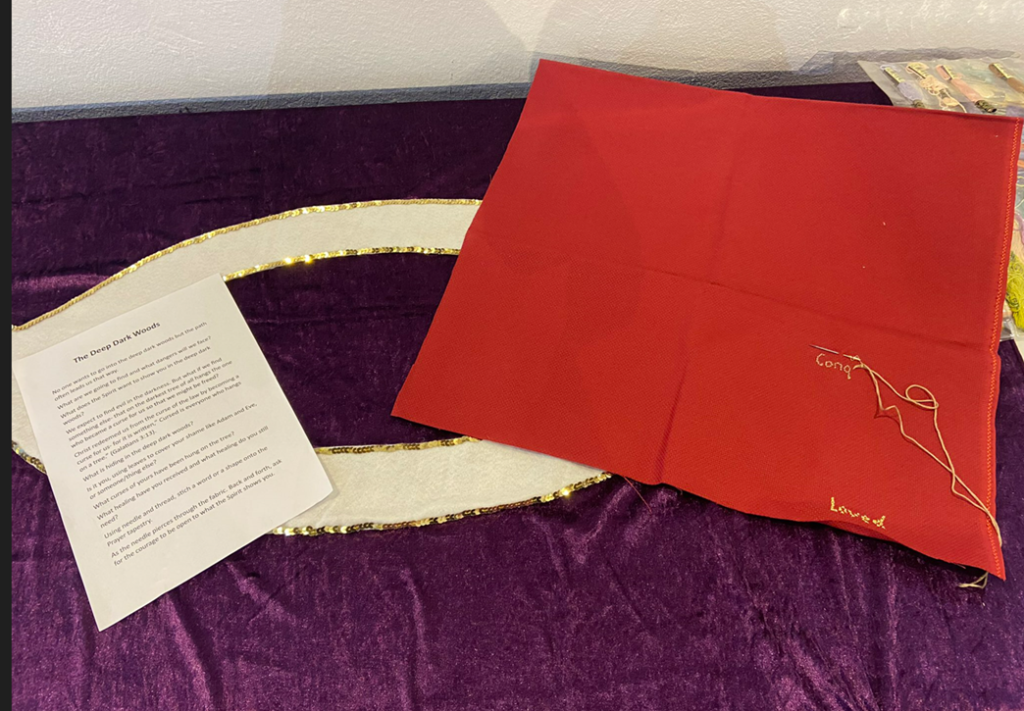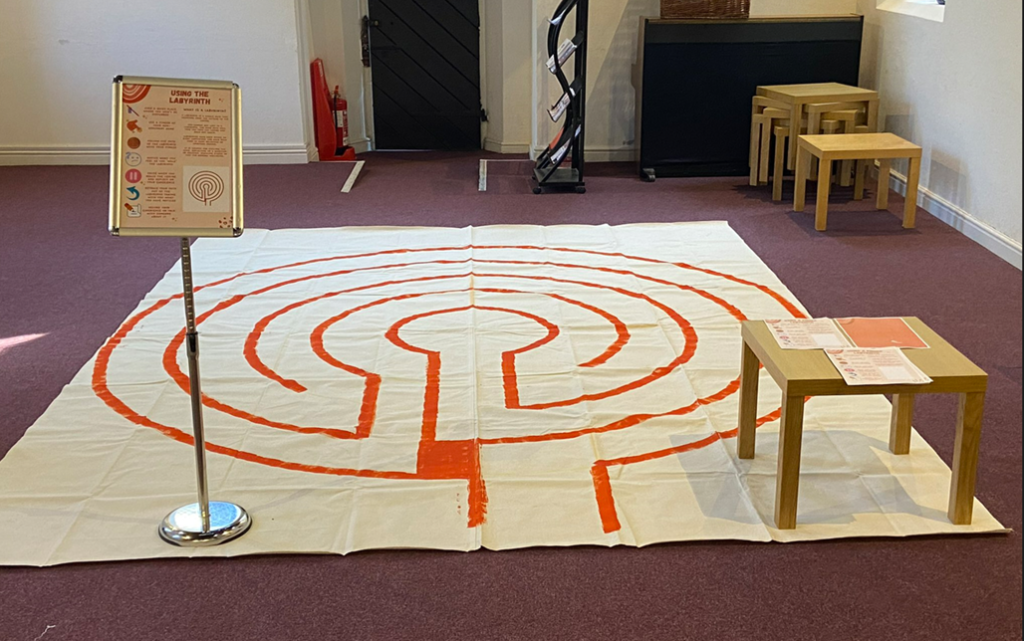 Ribbons and crosses in the Parish of the Resurrection, Alton
As well as holding daily prayer meetings through Thy Kingdom Come, the churches of All Saints Church, Holybourne and St Lawrence provided baskets of ribbons, encouraging people to tie a ribbon to the large crosses and say a prayer for someone to come to know Jesus.