Churches in our diocese are incorporating British Sign Language and Makaton into their worship as they seek to make their communities as inclusive and welcoming as possible.
St Mary's Andover recently began offering BSL as part of their morning service once a month, with signing provided by Sheila McKenna (pictured above), an experienced BSL translator who started attending the church in November 2022 and began to pray about how she could serve. "I felt I had these skills – what should I be doing with them? And I prayed about it for a long time before offering them," said Sheila.
For Sheila it felt as if things had come full circle, as Andover was where she had first discovered both her faith in God and her vocation to working with people with disabilities. She had originally moved to Andover as a child aged 6 when she and her siblings were taken into care by the local authority. There were two children's homes in Andover at the time which were next door to each other – one was specifically for children with disabilities and the children at the two homes had a lot of interaction.
"Playing so much with these children planted the seed in my mind that when I grew up I wanted to work with people with disabilities," explained Sheila. It was around this time that she also felt introduced to Christian faith properly as she was taken to the local church. Sheila went on to train in communications support and has had a career in supporting people in schools, colleges and the community.
When Sheila was diagnosed with cancer last year, she moved back to Andover to be nearer her family and got involved in life at St Mary's, offering her BSL skills. Although there is currently no deaf people in the congregation yet, the hope is that offering sign language will create an increasingly inclusive environment where all are welcome.
People have been very excited about it! They like seeing it and learning new signs. There is also another lady in the church who uses sign as part of her worship. And it's part of my worship too as I have to think hard about the meaning of songs or the sermon because to work out how to best translate.

I feel like God's saying "now that I've got you still and listening (because of my illness and the move) I'm going to give you new things to do." I'm here at this lovely church and feel strongly that God has purposes for me here and I want to give myself and my time to that.

Sheila McKenna
Meanwhile, at Fordingbridge Church, former speech therapist Alex Sains is also passionate about creating more inclusive services and is seeking to offer Makaton signing in services once a month.
"Makaton is a simpler language than BSL," Alex explains, "the user actually speaks as well as signs, and a quite a lot of the signs are based on natural gesture (like the sign for 'drink' is the action of raising a cup), and you only sign certain words in the sentence based on the level of understanding of the person you are speaking to. So it can be very effective for people who may have other learning disabilities who need help with engaging with what's happening."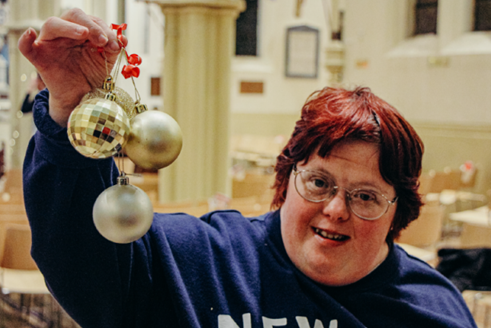 Alex has just completed the BPP (Bishop's Permission to Preach) training with the diocese – as part of a module on Spirituality and Discipleship she was asked to design a 'prayer experience' which she based on Makaton signing. "My tutor was very moved by how powerfully it affected those present," she said.
This same impact has also been felt by Alex's congregation: "the choir learnt an anthem recently, 'Christ has no body now but yours', and I signed the whole piece in Makaton. When we made the sign for 'yours' which is a gesture where you extend your arm around the whole congregation, it made people suddenly appreciate the inclusivity of what they were singing about."
Wouldn't it be amazing if the whole Church of England could become a Makaton using community! What a sign of radical welcome it would be. Of course not just about what we do in church, but it's where we should start.

Alex Sains
Here is Alex showing some of the signs in Makaton! …