Bishop Debbie and a team from Winchester Diocese recently travelled to Burundi, a country with which we have a longstanding 'companion link' dating back to the 1970s. In the words of the Archbishop of Burundi in his welcoming address, "We are friends from long ago!".
However, in recent decades the partnership has been inhibited due to various factors, including a long-running civil war in Burundi and an unstable political situation, including periods of genocide similar to those endured in Rwanda, which has made travel and sustainable relations with the country very difficult.
This summer, however, it became possible for a team (including Debbie Sellin, Acting Bishop of Winchester, Mark Collinson, Director of Ministry, Jemima Lewis, Head of Communications, Thomas Wharton, Vicar of Romsey Abbey, and Chris Bradish and David Roberts, Vicar and Curate of Andover Parish) to travel to see the Anglican Church in Burundi, to take part in a three day conference in the capital city Bujumbura, sharing learning and experiences on themes of unity, leadership and social transformation, alongside Burundian ordained and lay leaders.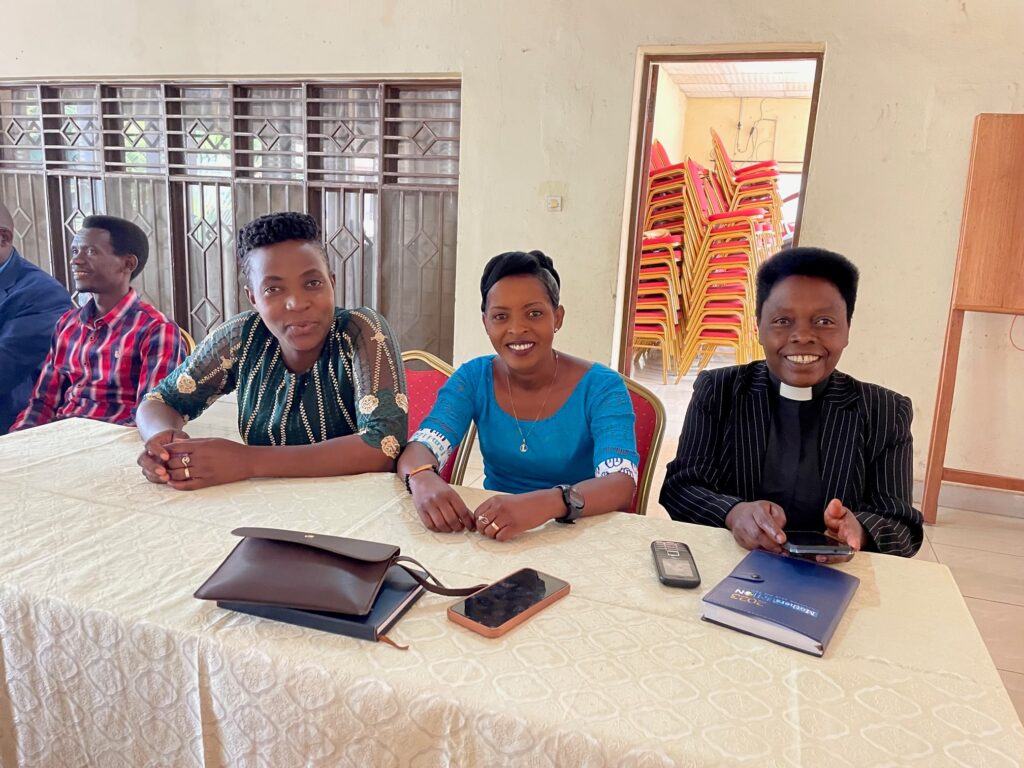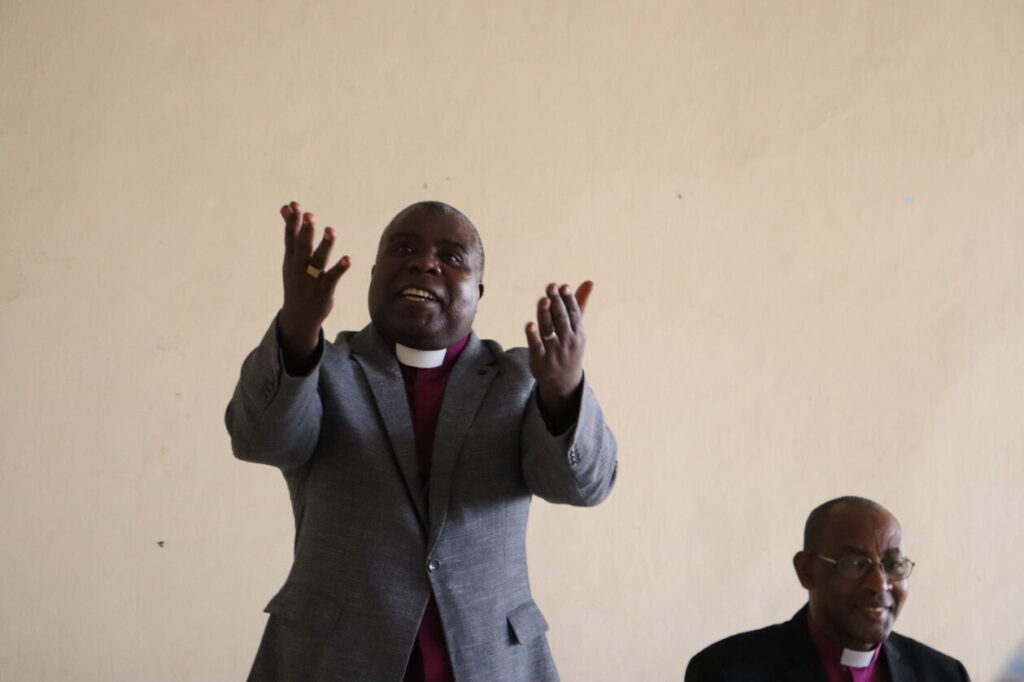 At the end of the conference, the Winchester team presented the Province with 72 clergy shirts generously donated by Revd Simon Butler of All Saints Church, Odiham and received a hand crafted Burundian instrument, as tokens of our love and commitment to future partnership. Following the conference, the Winchester team made visits to Bujumbura Christian University and three further Anglican dioceses around the country: Gitega, Rutana and Matana, meeting many representatives and being encouraged by the stories of hope and transformation in a country that has experienced much suffering in the past.
Watch a video of our Burundian brothers and sisters sending greetings to the whole Diocese of Winchester…
Shared Stories and Challenges
Everywhere the team went, they were met by the joyful sounds of worship and remarkable demonstrations of hospitality, in churches that were bursting full of people of all ages. All over the country, churches are being built to hold a fast-growing number of Anglicans worshipping in three languages, Kirundi, French and English, and the Church is playing a vital role in social transformation of a country considered one of the poorest countries in the world.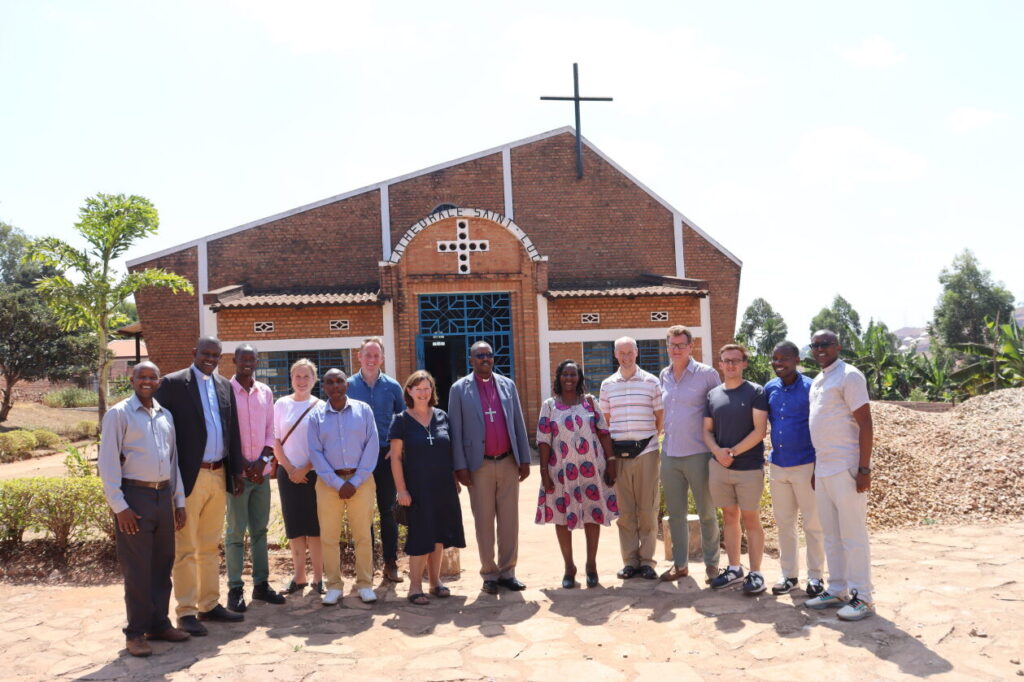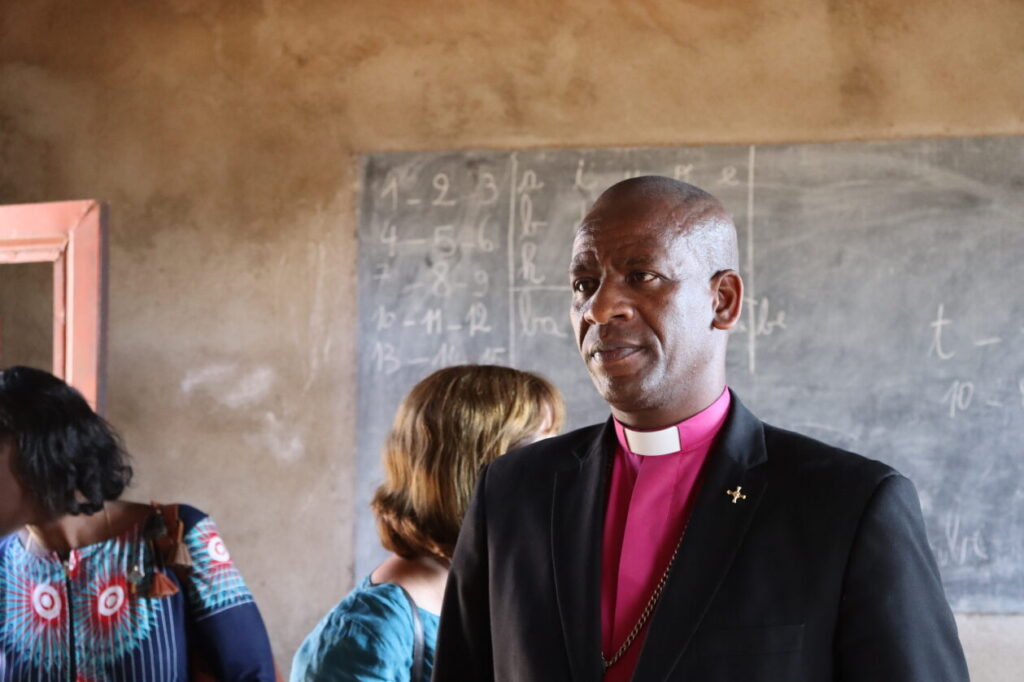 The Burundian leaders shared stories of their significant challenges in relation to helping people living in extreme poverty and the need for better theological training, especially in rural areas, while the Winchester team shared how the Church of England faces different struggles in its declining numbers and its responsibility to respond urgently to the global climate crisis.
The Winchester team were inspired to hear about the commitment of the Anglican Church in Burundi to tree planting, despite having extremely low emissions as a nation. Through its "One Person, One Tree" programme – a five-year commitment to plant a tree for each one of Burundi's 10 million-strong population – and other diocesan tree planting campaigns, the Anglican Church is gaining a reputation for being on the forefront of strategic thinking around environmental resilience.
Exploring Themes of Unity
Of all the themes of the conference and the wider discussions in parishes, perhaps the most prominent was the theme of unity, especially in the context of the global Anglican Communion. Archbishop Sixbert encouraged delegates to consider the question of what it means to be specifically an Anglican leader, with an awareness of being part of a global body of Christ, united by our governance structures and the Five Marks of Mission, despite our many contextual differences.
'Seeing the image of God in the face of another' was a repeated phrase, as together the delegates were asked to explore how an understanding of human dignity is a key part of holistic Anglican mission. "Our conviction that every person is a child of God, tenderly loved by the Father, is what prevents the Church from being just another NGO. Our world treats people like numbers on a graph, or machines in a factory, only valued if you are measurable or productive. But the Church must be measured by our love for each other," said Archbishop Emeritus, Bernard Ntahoturi.
Bujumbura Christian University
On site at the diocesan offices is the campus of the new Bujumbura Christian University, founded in 2015 by the Anglican Church in Burundi. It aims to equip the Church and the wider country with theologically well-trained people who are capable of leading and teaching at local and international levels. It is also where many parishes send their ordinands for training. It currently offers four courses: Theology, Computer Science, Economics & Management, and Translation Studies, although all students are required to take a foundational course in Christian Ethics.
Still in its infancy, the university currently has 60 students but it is highly ambitious and hopeful for how God will grow its vital ministry in education and training. It currently receives student sponsorship funding through the UK charity, Love Burundi, and is seeking other Christian partners as it works to establish itself as a leading Christian research centre.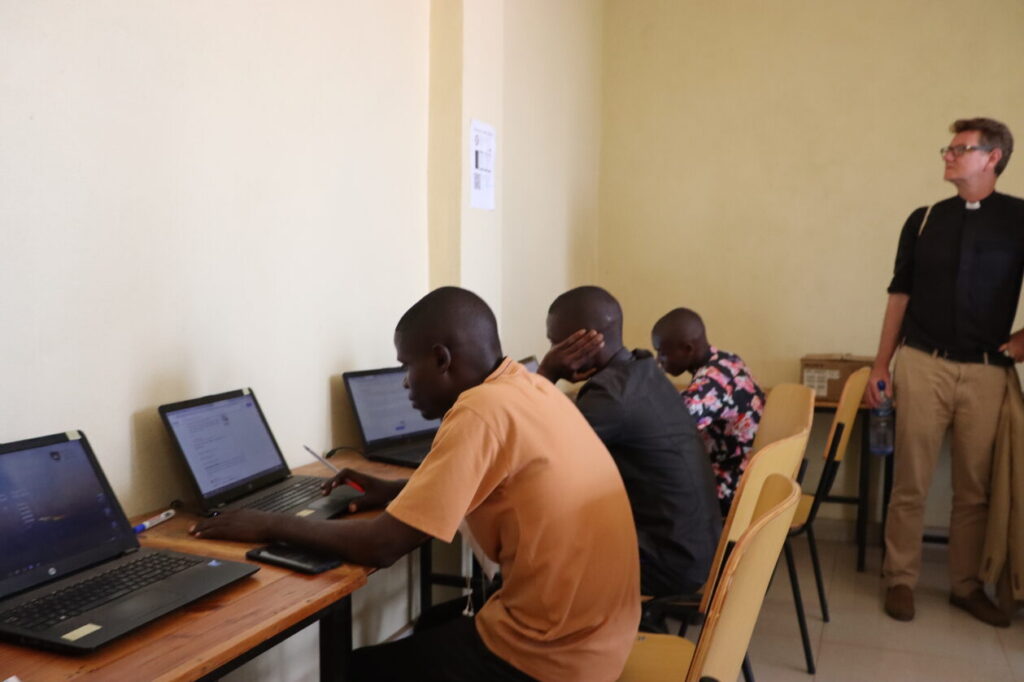 History of Our Companion Link
The first link between Winchester Diocese and the Anglican Church in Burundi was forged back in the mid-1970s when the then Bishop of Winchester, John V Taylor, built links with the Diocese of South West Uganda, which at the time included the country of Ruanda-Urundi (now Rwanda and Burundi) and Eastern Congo. He had previously been General Secretary of CMS (1963-73) and, on becoming Bishop of Winchester in 1974, John V Taylor introduced the Diocese of Winchester to the Anglican churches in this Great Lakes region of East Africa. Taylor contributed to an emerging theology of mission by recognising that the mission of God was happening through reciprocal relationships, and that God was sending people 'from everywhere to everywhere'.
The link originated therefore as a diocese-to-diocese link, but as the church in the Great Lakes region grew, the territory split into separate dioceses and 'provinces'. In 1965 Burundi became independent from Belgian territory and a separate country, becoming its own Anglican province in 1992 with Sam Sindamuka as its first Archbishop (1992-1998).
Over the years, Winchester bishops have recognised the relationship through meetings at Lambeth Conference and individual visits and exchanges. Romsey Abbey has also been supporting clergy training in Burundi through the Christian charity Love Burundi, and Andover Parish recently received Bishop Pontien of Rutana Diocese as a sign of their intention of future partnership.
The recent visit in August 2023 was the first bishop-led group delegation from the Diocese of Winchester in our history.
Women's Representation and the MU
Although there are a growing number of women priests in Burundi, with several attending the conference, for the majority of the clergy it was their first time meeting a female bishop in Bishop Debbie – an encounter which many found encouraging and inspiring!
The challenges faced, and overcome, by women in the Church and wider society are well articulated by Burundi's thriving Mothers' Union, led by Provincial Coordinator, Claudette Kigame, who took part in the conference along with other members. They were delighted and encouraged to talk with the Winchester team about the origins of the movement which began in our diocese through the pioneering work of Mary Sumner.
Indeed the Mothers' Union has a hugely impactful ministry in Burundi, working to combat gender-based violence and to improve literacy levels, as well as offering microfinance opportunities, and providing training in communities on budgeting, parenting and nutrition. Read the latest Mothers' Union Burundi Report here.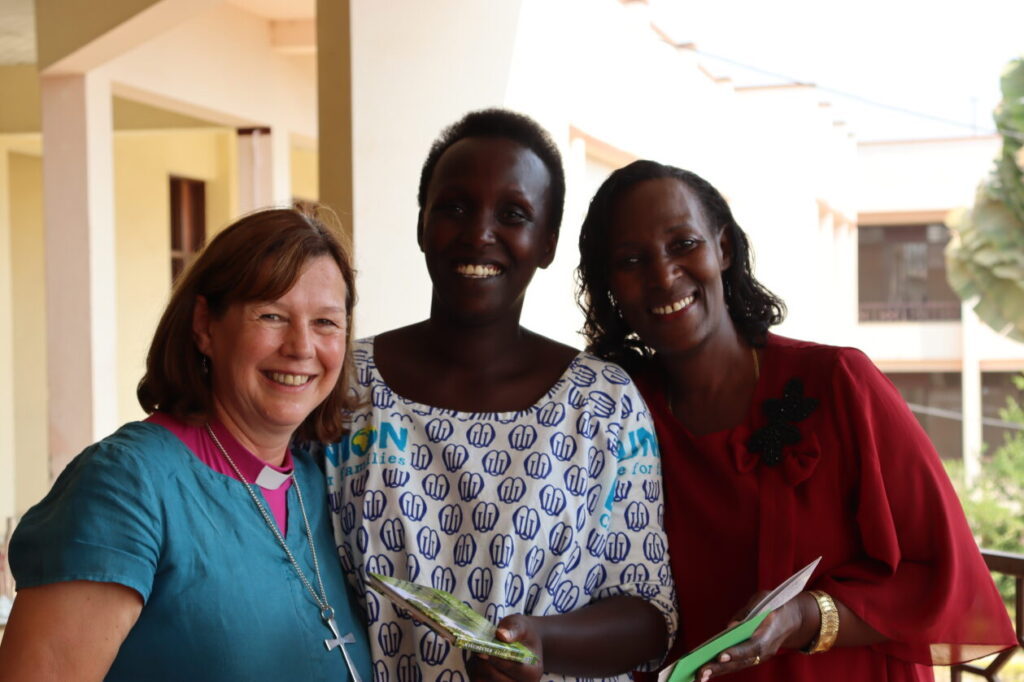 Watering Our Relationship
The recent delegation from Winchester Diocese to Burundi was intended to honour a longstanding friendship that, for various reasons, has not been as invested in the same way as our other mission partner links. The team were encouraged by the Burundian proverb: "To grow, a friendship must be watered by the feet" – meaning that physically coming together in person is vital for nurturing relationships. Certainly there are plans already in place for return visits from our Burundian brothers and sisters, that we may show the same level of warm hospitality. And there are many opportunities for the diocese and individual parishes to explore opportunities for reciprocal partnering with Anglican Burundian communities, including supporting the Bujumbura Christian University.
If your church or community would like to find out more, please get in touch with communications@winchester.anglican.org.
To see all the photos from the visit to Burundi, go to our Flickr page here.