The Mothers' Union Worldwide President, Mrs Sheran Harper, visited the Diocese of Winchester on 9-10 August to join the Mothers' Union members in marking Mary Sumner Day, on 9 August, a celebration of the woman who founded the organisation in 1876.
Sheran (who lives in Guyana), along with Mrs Kathryn Anderson, the Canterbury Provincial President, and Mrs Julia Jameson, the Canterbury Members Representative on Worldwide Council, joined with Winchester Diocese members for their monthly Cathedral Prayers. Afterwards, Sheran joined in a time of prayer at Mary Sumner's grave in the Cathedral cemetery where she laid flowers. The Deputy Mayor Cllr Russell Gordon-Smith also attended the service.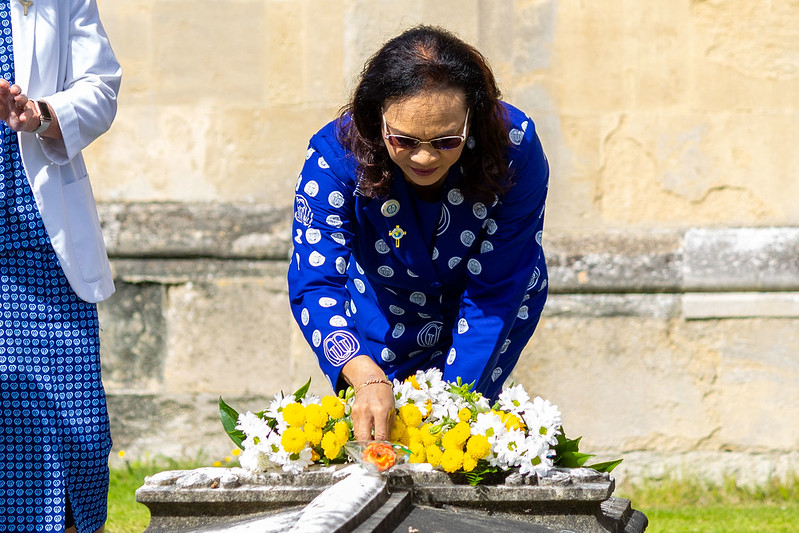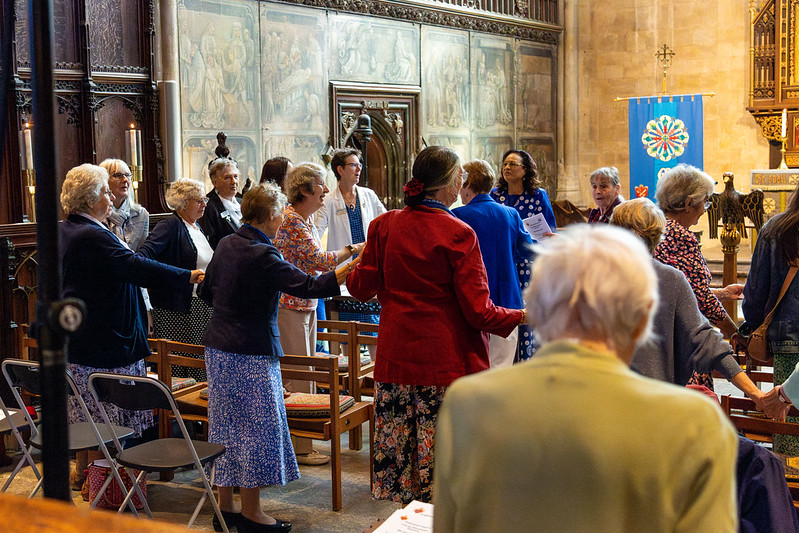 Sheran also addressed the members, giving encouraging accounts of her latest visits to Uganda and South Africa where she met MU members doing wonderful work in their communities. Afterwards the members enjoyed refreshments in the Wessex Hall, served by the cathedral staff. You can find photos from the day on our Flickr account.
Following her visit to the Cathedral, Sheran continued the Mary Sumner Day Celebrations visiting Old Alresford Place, hosted by the Rt. Rev David Williams, Bishop of Basingstoke, and attended a service in St Mary's Church Old Alresford. After the service she planted a tree in memory of her visit to the Diocese of Winchester and had tea with MU members.
Sheran continued her tour of the diocese, meeting Mothers' Union members at Romsey Abbey, Highcliffe, and Brockenhurst. Our diocese is proud to be where the Mothers' Union was founded, and we are inspired by all the wonderful work they do at home and abroad. You can get involved in a number of ways, from joining the MU to making a donation – more information can be found on their website.
In founding the MU, Mary Sumner wanted to create an organisation for all women, which would support mothers from a range of backgrounds as they brought up their children in Christian faith. This 'Union of Mothers' came with a membership card and a promise: 'to be given up, body and soul, to Jesus Christ in Holy Baptism, and that your duty is to train your children for his service'. This local movement soon spread, and by 1909 Mothers' Union became the largest voluntary women's organisation in Britain.
Today, the MU demonstrate their faith in action. This means that their members bring hope and practical support to millions of people every year, tackling issues of poverty, inequality and injustice. They do this through supporting parenting, literacy, and community development programmes.
Mary Sumner could not have imagined how the seeds she planted would grow into a movement 4 million strong today, with members in 83 countries. Members from across the world work to nurture healthy relationships in families and communities and to fight for social justice.
Learn more about becoming a member here >>