A church-led mental health project for young people aged 11-18 is being rolled out to the local community in Totton, based at St Win's Church. Named 'The Pillar', the project will use evidence-based mental health interventions alongside Christian discipleship resources, such as Youth Alpha, and will be delivered by Christians who have relevant experience in mental health. The heart of the project is to offer much needed mental health care to local young people in a format "where Jesus is at the heart of the healing".
'The Pillar' is being set up by former NHS mental health nurse Georgia Hart, who is now Community Youth Pastor at St Wins. The aim is to help tackle the ever-growing crisis in young people's mental health by working closely with the public sector – Georgia has many contacts with GPs, CAMHS and local schools from her previous work in the NHS, and all service users will be referred by one of these statutory agencies.
In order to set up the project, Georgia has put together a successful funding bid to the Church of England Innovation Fund (a pot being made available to support church-based innovation focused on at least of one of the following underrepresented groups: younger people and children; lower income communities; UK Minority Ethnic/Global Majority Heritage populations, urban areas. See here for more information).
'The Pillar' will also equip other churches in the diocese with resources to support young people experiencing a mental health difficulty. This will include a 'Youth Mental Health First Aid' two day course, offered annually to other churches within the Winchester Diocese. The aim is to bless and equip local churches to support their young people, and also to build a network of churches to partner with who have trained individuals to run a family of projects.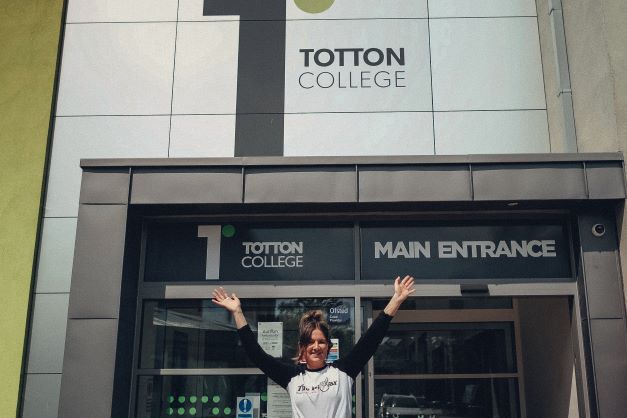 The scale of the challenge that 'The Pillar' is responding to is vast: in July 2020, 1 in 6 children aged 5 to 16 were identified as having a mental health problem, an increase from 1 in 9 in 2017, with the coronavirus pandemic having a significant impact. According to Young Minds UK, in March 2022, 90,789 young people in England alone, were referred to a mental health service in one month, with waiting times currently on average in Hampshire are up to 15 weeks for an initial assessment and 54 weeks for treatment.
Whilst witnessing the incredible work of the NHS for 2 and a half years as a mental health nurse, I became increasingly aware of the sheer lack of staffing and resource, especially for young people's mental health. I'd experienced this for myself when struggling with my own mental health difficulties between the ages of 13-21. For the first 4 years I was unable to access any free support, as I didn't fit the referral criteria for the children's NHS mental health service and subsequently my parents had to pay for private treatment until I became an adult. This is true for so many young people in the UK and unfortunately most of them are unable to afford to pay for the support they need. This leaves young people and their families struggling without support and most of us will meet these people regularly in our churches.

Georgia Hart, Youth Pastor
Georgia and the team are hoping to respond to this crisis with a discipleship pathway can be summarised as 'the 4 B's': belong, believe, be changed, bring change.
Belong to a community where you feel supported with your own mental health.
Believe that people value you and you can have peace, hope and freedom from mental health struggles, in the name of Jesus.
Be changed by God, for his meaning and purpose.
Bring change by sharing your testimony of recovery with others who are facing mental health struggles and making an impact within a community, through the power of the Holy Spirit.
All young people referred to the service will begin by being welcome to  'The Space' – a weekly meet-up in a relaxed setting in church – where they are given the opportunity to engage with the 'NHS 5 steps to wellbeing' through hobbies, conversation, learning new skills and connecting with others. This space will be welcoming and calm, leaders will intentionally spend time with young people and offer advice and teach key evidence based, psychological skills to help young people manage their mental health better. The young people can then progress from here to 'The Series', a course which helps young people to explore their own mental health in more depth, with a Christian perspective on mental health. They can then go on to take part in Youth Alpha if they choose to.
We believe that 'The Pillar' can become the Church of England's response to the crisis in young people's mental health. In order for this to happen we aim to work incredibly diligently to ensure that we provide a safe and effective programme that encompasses evidence based interventions and a relationship with Jesus, in a sensitive and non-coercive way.

Georgia Hart
For more information, please contact Georgia Hart: georgia@stwins.org