St Luke's Church of England Primary School in Sway, Lymington, have become a handful of schools in the country to achieve a Global Neighbours Gold Award, an accreditation from the charity Christian Aid which encourages schools to think about global citizenship. The scheme aims to increase pupils' understanding of the root causes of poverty and injustice, as well as engage and empower pupils as agents of change in the transformation of our world.
St Luke's became the second school ever to gain the Gold award back in 2019, and they have just been re-accredited thanks to their ongoing efforts to be a school full of courageous advocates for change in the world, from a local to global level.
Bishop Debbie visited the school this week to present pupils with their hard won award, taking part in an assembly which listed the many and various ways the school had put global citizenship at the heart of all they do. Some of the events and campaigns have included: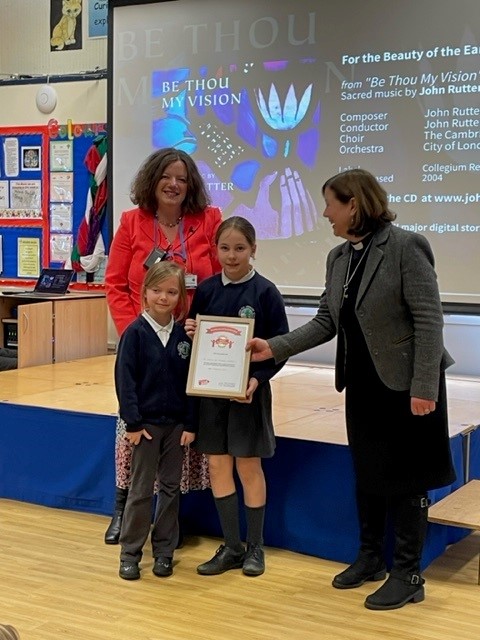 However, to achieve a Gold award, the assessor is looking for much more than one-off events. The values of global citizenship have to be embedded all the way through the school, from the school values to the curriculum. Year 6 pupils from St Luke's were, for example, able to talk about topics they had covered such as Equal Rights for Indigenous People, Gender Equality and World Trade Justice. Many of the pupils had also taken individual steps of courageous advocacy, including one pupil who wrote to the council about the problem of local litter.
In Year R, your global neighbour is the person who you share a classroom with, but this gets built on all the way through the school. It's much more than about one-off events – these are great at showing the 'what' but having these issues at the heart of the curriculum are how children really understand the 'why'.

Mark Gannoway, Deputy Head and School Global Neighbours lead
In the assembly, Bishop Debbie praised the children for being both an "inspiration and an influence" because they were not just doing something amazing, but also inspiring others to do bless others and live in the outward looking way that God made us to be.