On Friday 12th May, lots of young people from the churches in our diocese spent the night under the stars in the grounds of Winchester Cathedral in homemade cardboard shelters. The annual event is organised by Trinity Winchester to raise money and awareness for those facing homelessness.
A brave group of about 20 young people from the 'United' group (a collaboration of youth groups in the Northern Archdeaconry, including the Parish of the Resurrection, the Church of the Good Shepherd, the Benefice of Bentley, Binsted and Froyle, and North Hampshire Downs). The group was made up of a variety of ages from year 5 to year 13 and all enjoyed the entertainment of song and dance acts, as well as a bedtime story read by Sir Jonathan Pryce.
The young people have raised over £1100 in sponsorship – with church members also donating plenty in the way of cardboard boxes and tarpaulins that the young people used to make their shelters. You can still sponsor them using this JustGiving link!
It was a dry night, a little windy, but the cathedral itself sheltered us from the wind! After a bedtime story we got ourselves ready for bed. Our shelter was like a little house with lots of rooms; the 9 of us spread between 6 'rooms'. The tarpaulin over us created a roof which basically created corridors between the boxes – that was especially helpful for us to store our things and keep them dry! With over 200 people sleeping out overall, there were a few snorers, but that didn't bother us. Most of us woke up with the birds singing and the sun rising at around 5:30am, and I even had to wake some of our group up as we packed up around them because they were sleeping so soundly! We had a brilliant time. Well done everyone!

Gemma Ball, Pastoral Assistant (Youth) and Administrator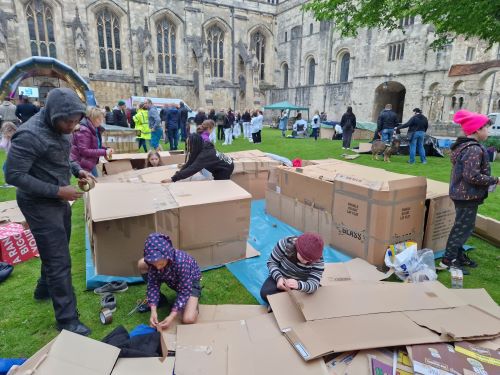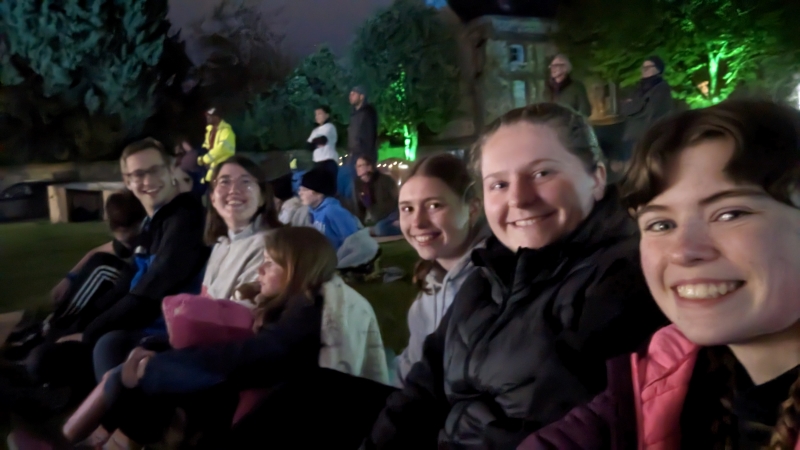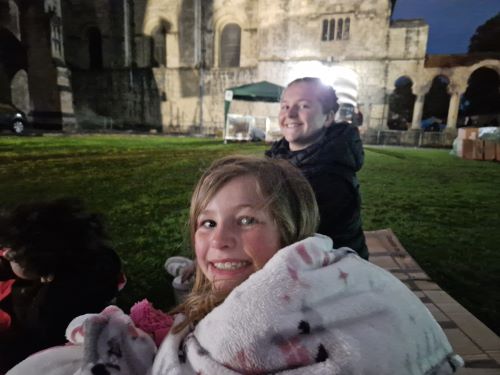 The North Hampshire Down's Youth Group includes a significant number of Ukrainian young people who have come as refugees since the war in their country. "They constructed a little corner of their homeland," explained Helen Chatfield, youth worker for the North Hampshire Downs. "When asked what had made them agree to do something as crazy as sleeping in cardboard boxes (none of them had even camped before) they replied that since coming to England they had learnt that you never know what tomorrow would bring and you should take every opportunity with both hands."
"We don't have anything like this for young people in Ukraine, where we can come together to make a difference for other people, even people we don't know! I am really proud of what we have done. Helen taught us a lesson today – we cannot always change to the world, but we have the power to do some good in our little corner."

Sofiia

"Sleeping out to raise money for homeless people has inspired me to think about what is really important to my heart, and work hard to make a difference in that area. I don't think I want to follow in my father's footsteps to become a lawyer, but I know I want to learn how I can make a difference in the world."

Dariia