Bishop Debbie Sellin (the Bishop of Southampton and the Acting Bishop of Winchester) and a team from Winchester Diocese have just returned from Burundi, a country with which the Diocese of Winchester has a longstanding 'companion link' dating back to the 1970s. In the words of the Archbishop of Burundi in his welcoming address to the group, "We are friends from long ago!".
However, in recent decades the partnership with the church in Burundi has been inhibited due to various factors, including a long-running civil war in Burundi and an unstable political situation, including periods of genocide similar to those endured in Rwanda, which has made travel and sustainable relations with the country very difficult.
This summer, however, a team from the diocese led by Bishop Debbie was able to travel to visit the Anglican Church in Burundi, to take part in a three day conference in the capital city Bujumbura, sharing learning and experiences on themes of unity, leadership and social transformation, alongside Burundian clergy. Although the Anglican Church in Burundi now has women priests, this was the first time that many had encountered a female bishop in Bishop Debbie – an encounter that caused much surprise and delight!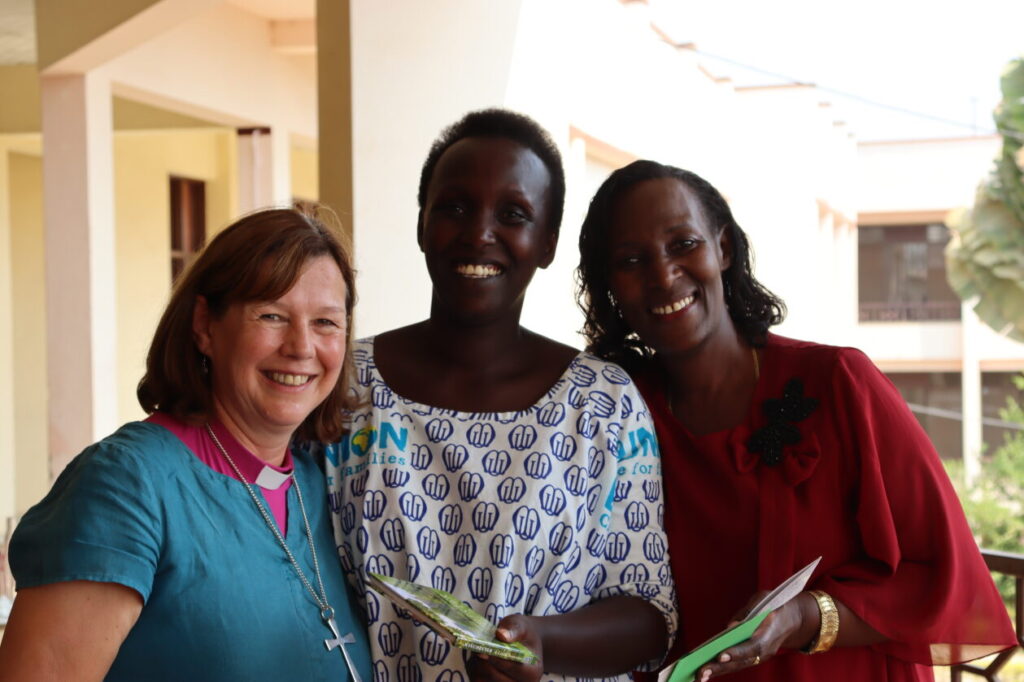 At the end of the conference, the Winchester team presented the Archbishop of Burundi with 72 clergy collared shirts generously donated by Revd Simon Butler of All Saints Church, Odiham, whose company Butler & Butler manufactures Fair Trade clerical wear. The team also received a hand crafted Burundian instrument in return, as a token of love and commitment to future partnership.
Following the conference, the Winchester team made visits to three further Anglican dioceses around the country: Gitega, Rutana and Matana, meeting many representatives and being encouraged by the stories of hope and transformation in a country that has experienced much suffering in the past.
Everywhere the team went, the delegation were met by the joyful sounds of music and remarkable demonstrations of hospitality, in churches that were bursting full of people of all ages. All over the country, churches are being built to hold a fast-growing number of Anglicans worshipping in three languages, Kirundi, French and English, and the Church is playing a vital role in social transformation of a country considered one of the poorest countries in the world.
There is a Burundian proverb that says: "To grow, a friendship must be watered by the feet" – meaning that physically coming together in person is vital for nurturing relationships. Certainly the partnership between the Winchester Diocese and the Anglican Church in Burundi has been well 'watered' by the recent visit and there are plans already in place for a reciprocal visit, and a way has been created for many opportunities for local parishes in the diocese and Church of England schools to support, establish links and befriend communities in Burundi.
[ENDS]
NOTES FOR EDITORS:
For a video of our Burundian friends sending a message to the Diocese of Winchester see here: https://www.youtube.com/watch?v=89m7zU7jlDc
For a more detailed report on the trip to Burundi, see here: https://winchester.anglican.org/friends-from-long-ago-burundi-winchester-link-revitalised-by-diocesan-visit/
For high res photos of the visit, see here: https://www.flickr.com/photos/cofewinchester/albums/72177720310687584
For further media enquiries, please contact Jemima Lewis, Head of Communications for the Diocese of Winchester: Jemima.lewis@winchester.anglican.org / 07841 523 100